The value that green space adds to property values (and our 5 favourite parks in South West Brisbane)
When looking to buy a property, how often do you consider its proximity to local parks and green spaces?
Features such as these help determine an area's liveability, and as outlined in our previous blog, it is a factor that should be considered when buying property.
The presence of parks, playgrounds and green spaces within an area can make a real impact on:
Your experience while living there

The resale value of the property in later years*
* A study conducted by CRC for Water Sensitive Cities in 2017[1], found that houses with greater access to green spaces could expect to sell for prices up to 16% more than those without!
Living in the Oxley/Corinda area, we are spoilt for choice in terms of great parks that are within a 10km radius to us. For a bit of fun, we've listed our 5 favourite local playgrounds. What are yours?
Favourite Park #1
Rocks Riverside Park
Location: 531 Seventeen Mile Rocks Road, Seventeen Mile Rocks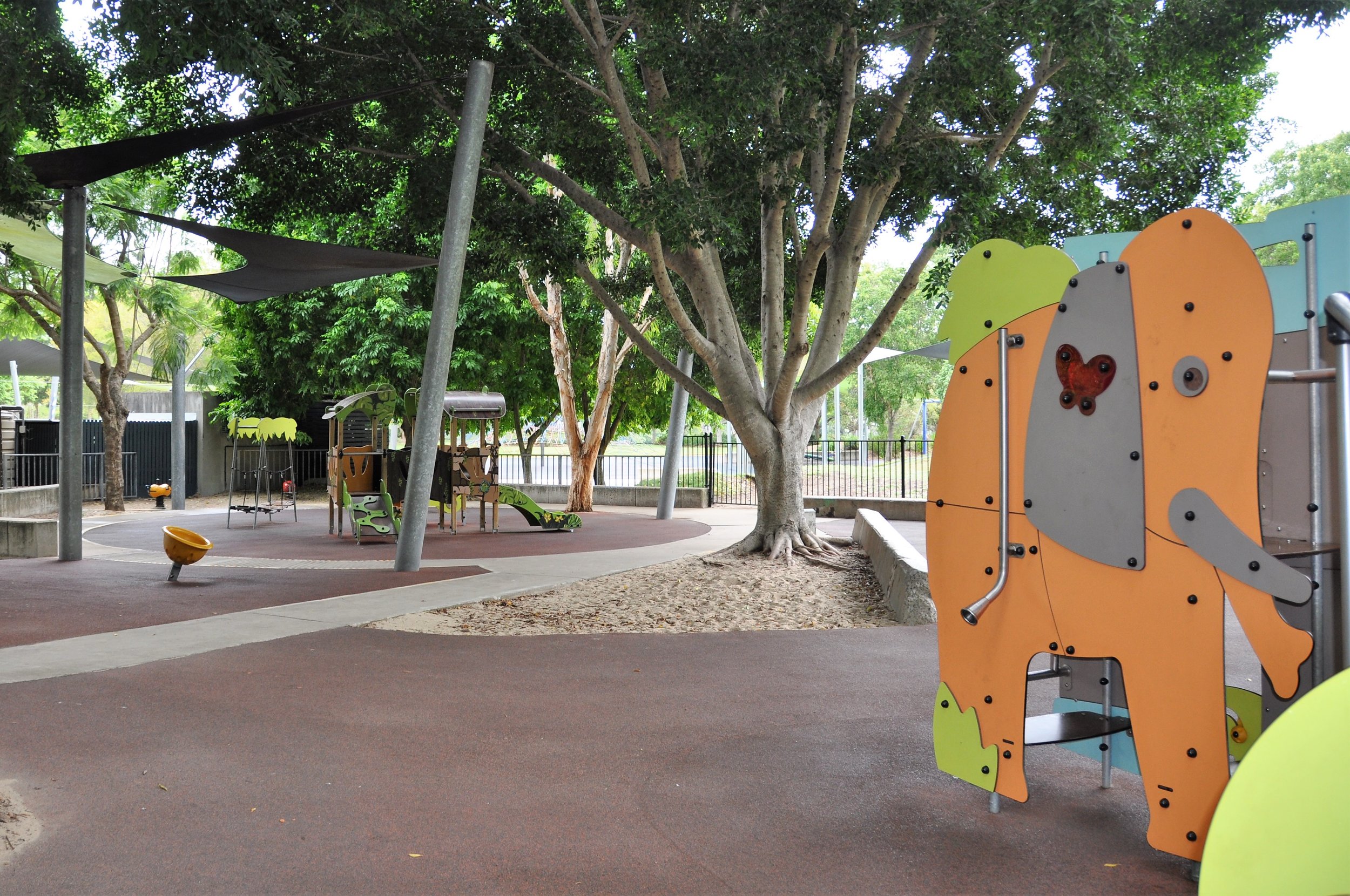 What we love about it:
We could write a separate blog just about this one park! It has so much to offer, and is absolutely our favourite place to visit. Whether you visit to cool down in the water area, take a walk or bike ride along the pathway, watch the kids play on a range of playground equipment, or throw the frisbee while the sausages cook on the BBQ – there's just so many ways to enjoy this great park and the Brisbane climate.
Facilities include:
Wide open lawn spaces (approximately 8000m2)

Water play area that includes paddle pools, fountains, and a relaxing, leafy recreated "river"

Fort with various climbing apparatus (including a rock-climbing wall)

Long, wide bike paths

Fenced play areas for smaller children

Flying fox

Half-size basketball court

Community garden

BBQs

Covered tables and seats

Public toilets

Off-street parking
Any drawbacks:
The park is so large and inviting, the kids can keep you on your toes with wanting to experience it all!
Car parking can be tricky at times (due to the park's popularity), but there is also street parking available.
Favourite Park #2
Sherwood Arboretum
Location: 57 Dewar Terrace, Sherwood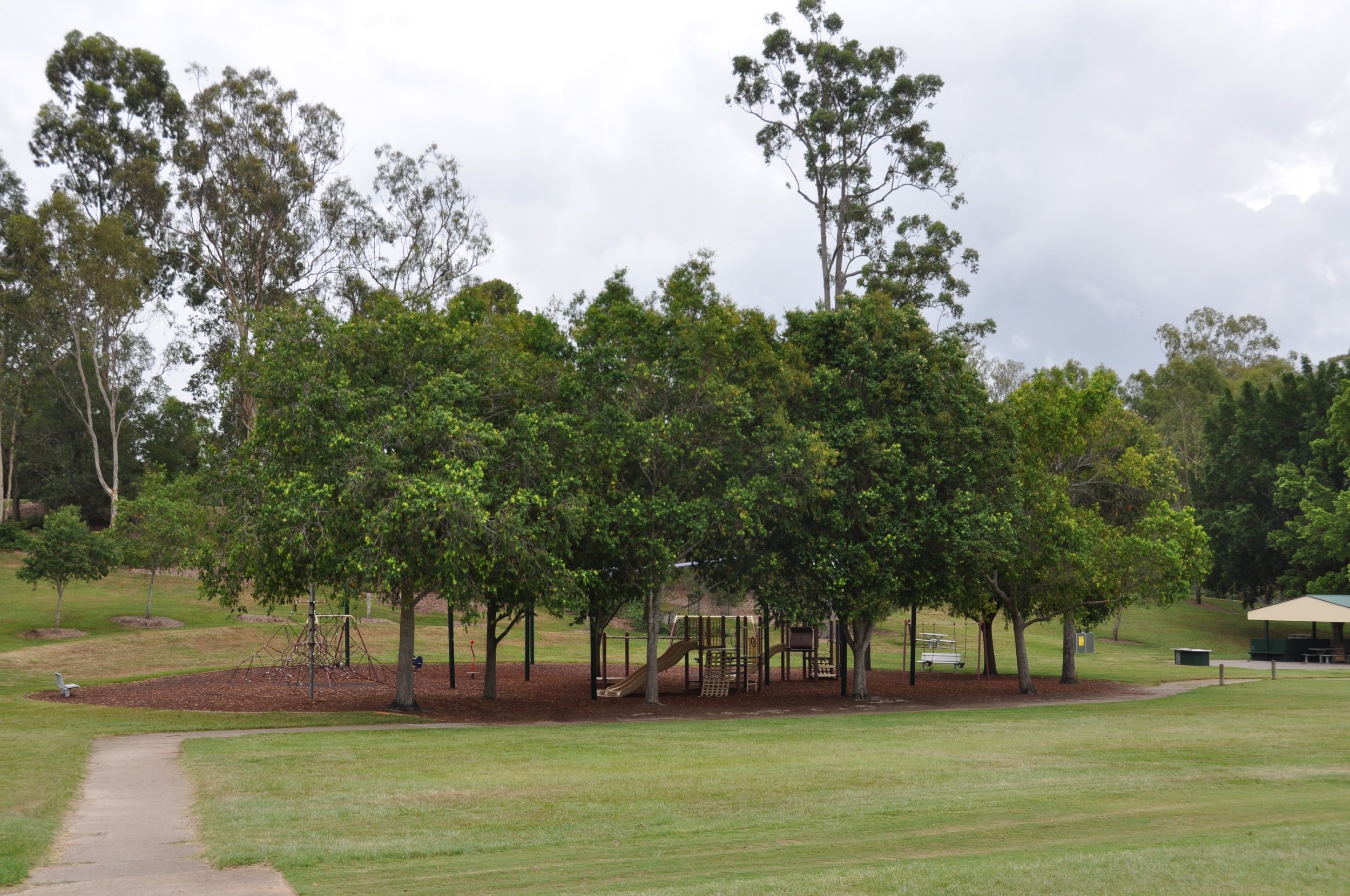 What we love about it:
Tucked away from the busy streets, the Arboretum offers a quiet and relaxed place to visit, all the while keeping the family busy. There's plenty to do (did someone say turtle-watching?), without the need to feel any urgency to get it all done at once. Both playgrounds are surrounded by trees, the pathways are wide enough for bikes and scooters, and the lawn space is so large that there can be multiple family functions on the go, without the ambience being affected!
Facilities include:
Wide open lawn spaces

2 playgrounds - including slides, swings and climbing apparatus

BBQ areas

Covered seating and tables

Pond with viewing deck

Public toilets

Off-street and on-street parking available
Any drawbacks:
None that we can think of!
Favourite Park #3
Ken Fletcher Park
Location: 167 King Arthur Terrace, Tennyson
What we love about it:
Located across from the Brisbane Tennis Centre and tucked along the Brisbane River, this park has a great vibe We also love the range of activities/playground facilities that the kids can interact with. The large green space and BBQs, along with the easy access to the public bathroom and drinking water amenities, means that this is a park that you can really spend some time at.
Facilities include:
Sand and water play

Climbing structures

Swings and slides

Bike paths

Picnic tables and seats

Toilets

BBQs
Any drawbacks:
Even though it has some great shade sails, this park can get hot on a summer's day. It lacks the large trees that the other parks in our list have – the lovely breezes that come off the Brisbane River help to cool things off though!
Parking can get tricky here at times, due to the popularity of the area and the limited car parking spaces.
Favourite Park #4
George Scarlett Park (Cliveden Avenue Park)
Location: 101 Pratten Street, Corinda
What we love about it:
The George Scarlett park is a great park to visit if you're looking to get the family outdoors, without a lot of fuss. The street parking is so easy, that it takes very little effort to just park the car and let the kids go!
The natural setting and shaded areas make this a lovely park to sit in as you watch the children enjoy the playground equipment. A very relaxed environment and a nice way to spend an early morning or late afternoon.
Facilities include:
Half-size basketball court

Shaded playground within a natural setting (including fort, swings, flying fox, climbing apparatus)

Covered bench seats and tables

Convenient street parking – you can simply park on the street and it's not a long walk to the playground

Large off-leash dog park adjacent
Any drawbacks:
The lack of bathroom facilities, means that our trips to this park can be unexpectedly cut short at times!
Parents with young children will need to keep an eye out as the road is close to the park on two sides.
Favourite Park #5
V. McN. Peachey Park
Location: Cnr Ardoyne Road and Sheffield Street, Oxley
What we love about it:
Affectionately known by the locals as the 'train park' (refer to image above), this one is a great playground for when you just need to get everyone out of the house for a while. Well-maintained, in a quiet area, with parking available along the street - this is a no-fuss park to visit.
Facilities include:
Mostly covered playground with slides, swings and climbing apparatus

covered table and seats

BBQ
Any drawbacks:
Lack of bathroom facilities can cut visits short.
[1] CRC for Water Sensitive Cities (2017), 'How much do we value green spaces', April 2017, accessed January 7 2018, <https://watersensitivecities.org.au/wp-content/uploads/2017/05/IN_A1-1_How_much_do_we_value_green_spaces_V1.pdf>.